2006 Johnson Prize Winner

Edgar Arceneaux

Los Angeles artist Edgar Arceneaux is the recipient of the 2006 William H. Johnson Prize. A distinguished jury selected Arceneaux after reviewing applications submitted by African American artists throughout the United States. As the honoree, Arceneaux received a cash award of $25,000. The jury also awarded two Finalist Prizes of $1000 each to Kira Lynn Harris (New York) and Tavares Strachan (New Haven).
Born in Los Angeles in 1972, Arceneaux received a BFA from Art Center College of Design, Pasadena in 1996 and an MFA from California Institute of the Arts in 2001. He received a Finalist Prize from the William H. Johnson Foundation, 2004, the Joyce Award, 2005, and has had residencies at The Skowhegan School of Painting and Sculpture, 1999 and ArtPace, San Antonio, 2006.
Based on an intense interest in relationships, Arceneaux's work exploits alliteration, association, and connotation to weave a complex fabric of unconventional structures and meaning. His exploration of how culturally established relationships form conventional codes of consensus has gradually developed into an approach in which linear logic is often subverted to create an improvisational field of experimentation that opens up new possibilities of understanding.
Arceneaux has had solo exhibitions at the Kitchen, New York; San Francisco Museum of Modern Art; Witte de With Museum, Rotterdam; UCLA Hammer Museum; Studio Museum in Harlem; Montgomery Gallery, Pomona College and at Susanne Vielmetter Los Angeles Projects. His collaboration with Charles Gaines, entitled Snake River was recently shown at the Lentos Kunstmuseum, Linz, Austria and at REDCAT Gallery, Los Angeles. His work has also been in a number of important group exhibitions including Uncertain States of America at the Astrup Fearnley Museum of Art, Oslo; Tomorrowland: CalArts in Moving Pictures , Museum of Modern Art, New York; The Imaginary Number , KW Institute for Contemporary Art, Berlin; Monuments for the USA , CCA Wattis Institute for Contemporary Arts, San Francisco; Double Consciousness: Black Conceptual Art Since 1970 , Contemporary Arts Museum Houston and Persoenliche Plaene at the Kunsthalle Basel.
The 2006 William H. Johnson Prize jury consisted of Doryun Chong,
Assistant Curator, Visual Arts, Walker Art Center; Romi Crawford,
Director of the Visiting Artists Program, The School of the Art
Institute of Chicago; Charles Gaines, artist and Instructor, Program
in Art, California Institute for the Arts; Kris Kuramitsu, Independent
Curator and Consultant, Los Angeles; and Kori Newkirk, artist.
Platonic Solid, 2006
Charcoal on cut paper
36" x 33"
Courtesy of Susanne Vielmetter
Los Angeles Projects

Untitled (Wheelchair Drawing , 2006
Carbon transfer on paper, charcoal, oil paint, wooden frame
124" x 119"
Courtesy of Susanne Vielmetter Los Angeles Projects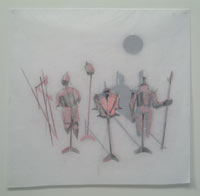 Untitled, 2004
Colored paper, tape, pencil, on frosted vellum
41 1/2 " x 42 "
Courtesy of Susanne Vielmetter
Los Angeles Projects
Burned up and crippled , 2006
Silkscreen on paper, canvas, wood, thumbtacks
106.5" x 96.5"
Courtesy of Susanne Vielmetter Los Angeles Projects