2008 Johnson Prize Winner

Jennie C. Jones
Born in Cincinnati in 1968, Jennie C. Jones received a BA from the School of the Art Institute of Chicago in 1991 and an MFA from Rutgers University in 1996. She has participated in artist residency and fellowship programs, both nationally and international, including: The Liguria Study Center for the Arts & Humanities Fellow - Genoa, Italy, 2004; Cité Internationale des Arts-Paris, France, 2002-2003; The Lower Manhattan Cultural Council Residency at the World Trade Center, 1999 and Skowhegan School of Painting and Sculpture, 1996. In 2008 she was a fellow at the Rockefeller Foundation's Bellagio Study Center as well as a Visiting Artist at The American Academy in Rome, Italy. Jones received a Creative Capital grant in 2008, the Rema Hort Mann Foundation Award in 2006 and a Pollock-Krasner Grant in 2000. Jones has had solo exhibitions at Artists Space, New York, 2006 and at Arratia, Beer, Berlin, 2007. Her work was also included in a number of important group exhibitions including Black Light / White Noise: Sound and Light in Contemporary Art, Contemporary Art Museum, Houston in 2007; Double Consciousness: Black Conceptual Art Since 1970, Contemporary Art Museum, Houston in 2005 and Freestyle, Studio Museum in Harlem, 2001.
In her practice, Jones attempts to merge art history, music history and black history in order to present a more inclusive version of modernity. She identifies with the conceptual ideology of jazz, honoring its radical legacy of experimentation and its hybrid modernist form. She uses the materials of sound to create works of art in a range of media. In one series, she manipulated audio tape extracted from a Kenny G tape into what appears to be a modernist abstract drawing. The resulting works read as highly composed, yet improvised linear gestures much like the jazz music that the tape once played.
The 2008 William H. Johnson Prize jury consisted of Thelma Golden, Director and Chief Curator, Studio Museum in Harlem; Eungie Joo, Director and Curator of Education and Public Programs, New Museum, New York; Glenn Ligon, Artist; Gary Simmons, Artist; and Kara Walker, Artist.
Breathless #2, 2008
Audiotape under glass
20 x 16 inches
(from Kenny-G's 1992 recording "Breathless")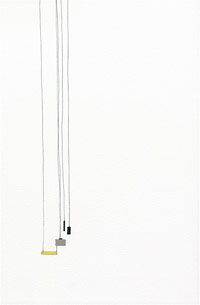 Tiny Sub-woofers and such, 2007
Ink and collage on paper
15 x 10 inches

Sunflower / Plenty, Plenty Soul (Milt Jackson), 2007
Tape cassette cases, yellow paper and clamp
4 x 4 x 6 inches