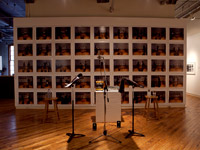 2014 Johnson Prize Winner

Deanna Bowen
Deanna Bowen is a descendant of the Alabama and Kentucky-born African American pioneers of the Amber Valley and Campsie, Alberta, Canada. She holds a Masters of Visual Studies from the University of Toronto (2008) and a Diploma of Fine Arts from the Emily Carr University of Art + Design (1994). Her interdisciplinary works have been shown in Canada, the U.S. and Europe, and at numerous film festivals and galleries including the Institute of Contemporary Art at the University of Pennsylvania; McMaster Museum of Art in Hamilton, Ontario; Kassel Documentary Film and Video Festival; and The Nasher Museum of Art at Duke University.
Bowen's practice revolves around historical research of American slavery, migration and diaspora studies. This research informs the production of a range of interdisciplinary conceptual works that incorporate genealogical and historical research, writing, storytelling, blogging, film and video production, computer-based animation, performance for stage and camera, photography, sculpture, experimental audio composition and drawing.
Bowen teaches studio, video art and ethnographic documentary production in the Department of Arts, Culture and Media at the University of Toronto Scarborough.
The 2014 jury consisted of Charles Gaines, artist and faculty at the California Institute of the Arts, Los Angeles; Clara Kim, Independent Curator, Los Angeles; Aram Moshayedi, Curator, Hammer Museum, Los Angeles; and Karyn Olivier, artist and faculty at the Tyler School of Art, Temple University, Philadelphia.
The Paul Good Papers, 2012
video, performance and photography (installation view)
Gallery 44 Centre for Contemporary Art, Toronto (photo courtesy: Stuart Sakai)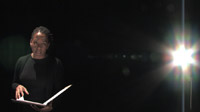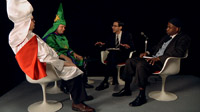 sum of the parts: what can be named, 2010
single-channel video, 18 minutes (still)

Invisible Empires (The Klan Comes to Town from This Hour Has Seven Minutes, CBC Studios, Toronto, October 24, 1965), 2013
single-channel video, 19:35 minutes (still)